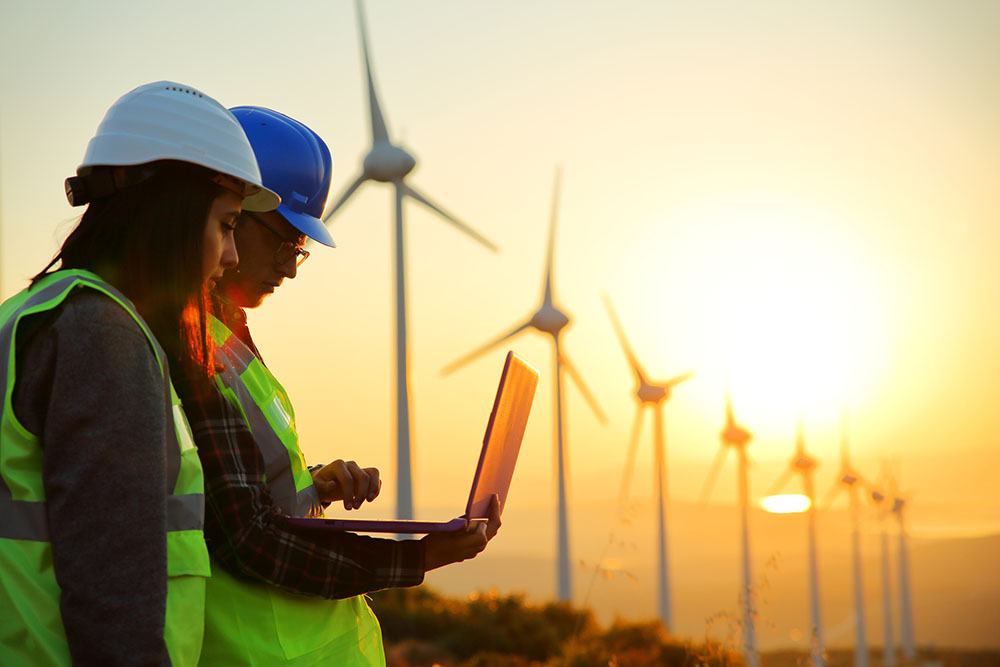 With the UK facing an energy crisis in 2022 due to rocketing oil and gas prices, many investors are keen to understand where the country stands with wind energy. As an island nation, many analysts have drawn attention to UK's huge wind energy potential from offshore farms. In this latest industry report, our team at Bure Valley Group outlines the UK's wind energy journey and where the future might take us. Below, you can find key players developing technology in this exciting space, potential risks and opportunities to consider for your portfolio.
The wind energy landscape in 2022
Between 2022-27, the UK's wind energy market is expected to rise by a compound annual growth rate (CAGR) of 6%. Coal, by contrast, is being gradually phased out, with wind power replacing much of the country's output – with cumulative wind power standing at 24 gigawatts in 2020. Today, in 2022, the UK has 25 gigawatts (GW) of installed capacity spread across 11,000 wind turbines (11 GW offshore). This comprises 25% of the UK's total energy consumption – the largest source of renewable energy in the country.
COVID-19 had a big impact on the wind energy industry in 2020. UK energy consumption went down as more people stayed at home and global supply chains (e.g. for turbine parts) were heavily disrupted. However, the UK government is still aiming to generate 100% of the nation's power needs from zero-carbon generation by 2035. Currently, the UK wind energy market is moderately consolidated. Prominent players include:
Siemens Gamesa Renewable Energy SA,

Vattenfall AB, 

General Electric Company, 

Vestas Wind Systems AS 

Orsted AS.
The UK's wind journey
The UK's first utility grid-connected wind turbine was built in 1951, and industrial-scale wind generation (as a nationwide power source) was first proposed in the 1970s. It was only in 2007, however, that the British government committed to generating 15% of its energy supply from wind power by 2020. By 2013, 27.4 TWh of UK energy came from wind (8.7% of national demand) and the government met its target in 2020, with 24% of total energy use sourced from wind power. Today, the UK can now boast itself as the best place in Europe for wind power generation and amongst the best in the world. Despite this, subsidies for onshore projects were cancelled by the ruling Cameron government in April 2016 – although the Johnson government changed policy course and onshore wind developers were able to compete in subsidy auctions with solar power and offshore wind from December 2021.
Obstacles & future potential
The UK government has stated a major commitment to expand offshore energy capacity to 50 GW by 2030 (double the current capacity). Part of the rationale is to improve the UK's energy security, which has been thrown into sharp focus since Russia's invasion of Ukraine in early 2022 (resulting in escalating wholesale prices for fossil fuels). Opinion polls show widespread public support, with 70% of UK adults wanting to see more wind energy expansion. However, there are still significant barriers to overcome. 
In particular, the national planning policy framework (updated in July 2022) states that an onshore wind project cannot go ahead until local community objections have been completely addressed. Without unanimous backing from these stakeholders (a high bar to reach), an onshore wind turbine cannot be built. Fortunately, this hurdle does not exist in Scotland, Wales and Northern Ireland. Together, they comprise over 50% of the UK's landmass. 
Another important challenge to address is supply chain constraints when sourcing submarine cables (a key component of offshore turbines). The wind energy sector relies heavily on highly specialized manufacturers and service providers, providing continued upward pressure on costs. Then, there is still the issue of how to store unused power from wind turbines. Wind power tends to generate the most electricity at night (when demand is lowest) and storing this in batteries is immensely expensive and infrastructure-intensive. 
The transformative power of startups
Thanks partly to the UK's innovative wind startups, many of these obstacles are no longer insurmountable. One powerful idea to address wind storage is to turn excess power into compressed air, held inside large above-ground tanks or underground caverns. When this energy is needed, it can be steadily released into an air motor or injected into an internal combustion turbine. 
One UK consortium – involving the University of Birmingham, Aggregate Industries, and Innovatium – has produced the Prisma system, allowing thermal energy to be stored in liquid air form. The first industrial-scale, behind-the-metre system is scheduled for early 2023. Another UK company, Highview Power, is using "cryogenic" liquid air (compressed 700-fold) in storage tanks in sites such as Bury to release power on demand. The levelised costs for a one gigawatt (GW) plant comes in "way below" $100 per MWh; cheaper than any backup option on the market (fossil fuel or renewable). 
Conclusion
Wind energy is a growing and important industry in the UK economy. Although the market is dominated by about 5 key players, there are some interesting startups worthy of early-stage investors' attention. These can play a key role in generating niche ideas and solutions which larger, less adaptive companies may struggle to achieve.
If you are interested in expanding your portfolio into these kinds of exciting spheres of investing, then we invite you to get in touch with us here at Bure Valley and to consider joining our exclusive investor network:
+44 160 334 0827